About The Boisen Books Project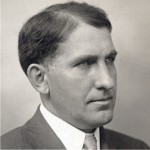 The major writings of Anton T. Boisen, founder of the clinical pastoral care, counseling and psychotherapy movement, and of Clinical Pastoral Education, have long been out of print. As a result, generations of chaplains and others have nearly lost touch with the life, vision and legacy of the seminal figure in their own field.
The Boisen Books Project will reintroduce Boisen to a new generation in the 21st century. As relevant today as when they were first published, Boisen's three major books will appear, one-a-year, beginning in Spring 2015, marking the 50th anniversary of his death in 1965.
Boisen's acclaimed first book The Exploration of the Inner World  (1936) will be back in print in 2015, his sociological and psychological study Religion in Crisis and Custom (1945) in 2016, and his autobiography Out of the Depths (1960) in 2017.
The new editions will each include a new Introduction by renowned historian of the pastoral care movement and psychiatrist Robert Charles Powell, MD, PhD, as well as a new foreword and afterword.
WATCH FOR MORE ABOUT THE PROJECT AND PRE-ORDER INFORMATION in SPRING/SUMMER 2014!